Welcome to the OTHER LOOK OF COLOMBIA
The nice look that every one should remember
Welcome to our site !!!.This site is intended to show and emphasize the plenty of nice things of the Republic of Colombia. Colombia is that wonderful country in South America full of nice people, plenty of natural resources, and spectacular nature diversity . You are invited to visit this site and enjoy the wonders, the other look of COLOMBIA.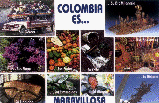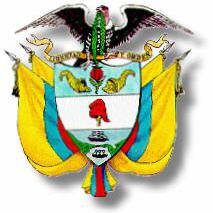 COLOMBIA has been, for a great number of years, the country which produces the best mild coffee in the world. Colombia's emeralds are praised as the world's most valuable emeralds. And, how about Colombian flowers or the pre-Columbian treasures of its Gold Museum. Colombia has outstanding people in all kinds of fields: writers, scientists, artists, athletes, industrialists, entrepreneurs. Colombian men and women are hard working people with family oriented values.
---
See this wonderful video titled 'COLOMBIA: Would you take the risk?'
---
---
See this wonderful video titled 'LIVE COLOMBIA' (Vive Colombia)!
---
See this nice video about Colombians!
---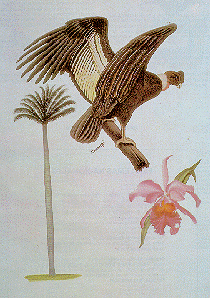 COLOMBIA :
Produces the richest coffee in the world.
Is an important exporter of bananas and exotic fruits.
Has the biggest export-oriented steam coal mine in the world, "El Cerrejón North Zone", an open pit mine capable of producing 15 million metric tons of coal per year.
Is the second richest country in bird species in the world, after Brazil.
Has abundant oil and natural gas reserves.
Is an important producer of platinum, gold and silver.
Is the second richest country in biodiversity in the world, after Brazil.
Is the major world source of emeralds.
---
Here is another nice video about Colombian passion!
---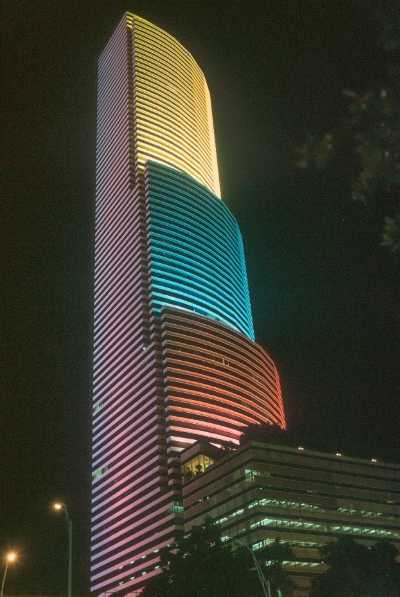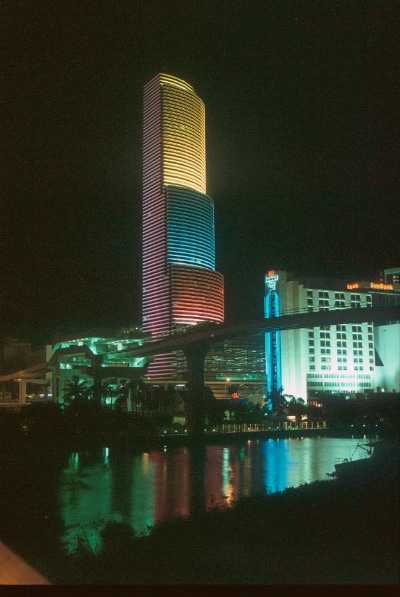 Miami building pictures are a fine courtesy of Juan Fernando Blanco Hernández.
March 26, 2008 - (www.ase.tufts.edu) Colombian economist wins prestigious award

Tufts University's Global Development and Environment Institute announced that it will award its annual Leontief Prize for Advancing the Frontiers of Economic Thought to José Antonio Ocampo of Columbia University and Robert Wade of the London School of Economics. The award ceremony will take place November 17 at Tufts University and will feature lectures bythe prize winners on the topic, "Beyond the Washington Consensus: New Visions for Trade and Development." The Global Development And Environment Institute (GDAE), which is jointly affiliated with Tufts' Fletcher School of Law and Diplomacy and Graduate School of Arts and Sciences, inaugurated its economics award in 2000 in memory of Nobel Prize-winning economist and Institute advisory board member Wassily Leontief, who had passed away the previous year. The Leontief Prize for Advancing the Frontiers of Economic Thought recognizes economists whose work, like that of the institute and Leontief himself, combines theoretical and empirical research that can promote a more comprehensive understanding of social and environmental processes. The inaugural prizes were awarded in 2000 to John Kenneth Galbraith and Nobel Prize winner Amartya Sen. "There is no longer any consensus, in Washington or elsewhere, that free trade, unregulated by government intervention, can produce broad-based sustainable development," says GDAE Co-director Neva Goodwin. "José Antonio Ocampo and Robert Wade are among the most creative economic thinkers, combining rigorous analysis with empirically grounded research. Each of them is laying critical pieces of the groundwork that's needed for solving global problems inways that will genuinely improve the lives of the world's poor majority." José Antonio Ocampo is one of the deans of Latin American economics. His numerous articles, books, and reports have made major contributions to development scholarship, and policy. He is a leading thinker on the reform of the international financial architecture and on macroeconomic policies to reduce the vulnerability of developing countries to international financial volatility. He worked in the United Nations, as Under-Secretary-General for Economic and Social Affairs and Executive Secretary of the Economic Commission for Latin America and the Caribbean, and held several cabinet-level government posts in his native Colombia.

He currently serves as Professor and Co-director with Joseph Stiglitz of Columbia University's Initiative for Policy Dialogue. His many books include Globalization and Development: A Latin American and Caribbean Perspective, Regional Financial Cooperation, and the forthcoming volume on Capital Market Liberalization and Development. Robert Wade has made seminal contributions to several fields of study. His book Governing the Market, on the state's role in East Asian development, won the American Political Science Association's prize for Best Book in Political Economy. His Village Republics: Economic Conditions for Collective Action in South India, showed that the tragedy of the commons does not always hold true and that collective action can be an alternative to privatization and state control in the management of common property resources. The awards ceremony and Leontief Prize lectures will take place on Tufts University's Medford Campus November 17, 2008.

March 4, 2008 - (dailymail.com/Life/200802010188) Colombian Architect creates the largest bamboo structure ever built

Simón Vélez is an acknowledged pioneer in the modern use of bamboo in architecture. In collaboration with his workers and his best friend, Marcelo Villegas, he developed the mortar-filled joinery system that allows the long-span, lyrical structures on this page to be built. Guadua ( Bambusa guadua angustifolia ) is the most visibly dominant bamboo in the Caldas region of Colombia. It has been used in architecture since the 1920's, and has been reinvigorated by the design talents of architect Simón Vélez and artisan Marcelo Villegas.

In the picture on the right, Colombian architect Simon Velez stands beneath a dome he is building from bamboo that will be the future site of a supermarket in Girardot, Colombia.

Bamboo is featured in an article on the Charleston Daily Mail newspaper of Charleston, WV. Titled "Bamboo, dubbed 'vegetal steel,' superb for building" with a subtitle "Forget steel and concrete. The building material of choice for the 21st century might just be bamboo", the article highlights the unique characteristics of bamboo and highlights the pioneer work of Colombian architect Simon Velez.

Bamboo, dubbed 'vegetal steel,' superb for building


The Associated Press

Colombian architect Simon Velez stands beneath a dome he is building from bamboo that will be the future site of a supermarket in Girardot, Colombia. .. This hollow-stemmed grass isn't just for flimsy tropical huts any more - it's getting outsized attention in the world of serious architecture. From Hawaii to Vietnam, it's used to build everything from luxury homes and holiday resorts to churches and bridges.

Boosters call it "vegetal steel," with clear environmental appeal. Lighter than steel but five times stronger than concrete, bamboo is native to every continent except Europe and Antarctica. And unlike slow-to-harvest timber, bamboo's woody stalks can shoot up several feet a day, absorbing four times as much world-warming carbon dioxide.

"The relationship to weight and resistance is the best in the world. Anything built with steel, I can do in bamboo faster and just as cheaply," said Colombian architect Simon Velez, who almost single-handedly thrust to the vanguard of design a material previously associated with woven mats and Andean pan pipes.

Velez created the largest bamboo structure ever built: the 55,200-square-foot Nomadic Museum, a temporary building that recently debuted in Mexico City and takes up half of the Zocalo, Latin America's largest plaza.

Click here to read the whole article.

Feb 28, 2008 - (www.eretzmuseum.org.il) Olga de Amaral illuminates the Eretz Israel Museum in Tel Aviv

Visitors will be dazzled! Through May 25, 2008 the golden tapestries of Olga de Amaral will illuminate Eretz Israel Museum in Tel Aviv. Olga de Amaral creates her spectacular pieces by applying gold and silver leaf and acrylic paint to a blank canvas of woven silk, cotton, horsehair or linen. The result is a shimmering masterpiece that commands international recognition. Besides worldwide exhibitions, de Amaral's works have been included in collections at the Metropolitan Museum of Art in New York and Chicago's Art Institute.

Olga de Amaral was born in Bogota, Colombia where she first studied architecture at the Collegio Mayor de Cundinamarca. However, it was at the Cranbrook Academy of Art in Michigan in 1954 where she discovered her love of textiles. After years of experimenting with design and color she created her signature work, golden panels that glisten as they catch light at different angles. The collection has been called serene, regal and shimmering. The Albuquerque Museum is proud to display Olga de Amaral's golden tapestries. The works are shown as part of the Promotion Plan of Colombia to the International Community.

Internationally renowned Colombian fiber artist Olga de Amaral (shown below) received a Lifetime Achievement Award in November, 2005 as part of the Museum of Arts & Design's 12th Annual Visionaries! awards.

Feb 23, 2008 - (www.anangelinqueens.org) A Colombian Angel in Queens Feeds Day Laborers

Every weekday, starting as early as 7 in the morning and continuing until 7 at night, weary-looking men dressed in threadbare jackets and worn running shoes gather at the corner of Roosevelt Avenue and 73rd Street in Jackson Heights, Queens, under the gloomy shadow of the el. Swiveling their heads as if watching a tennis match, the men scan each passing car, in the hope that a driver will stop and offer up $100 in exchange for a 10-hour day of grueling labor on a construction or demolition project on Long Island.

But offers of work are few these days, and competition for jobs is intense. As winter approaches, a man can easily spend the entire day shivering and desperately hungry, because these day laborers, many of them from Mexico or elsewhere in Latin America, are not only poor immigrants in need of work; many are also homeless, or nearly.

"We come here to look for work," said a 47-year-old Ecuadorean named Carlos Suarez as he hugged a cheap leopard-print comforter that serves as his bed. "There is none. What can we do?"

Mr. Suarez says that he has sometimes gone days without eating and has on occasion survived only on bread. But for the past three months, he has eaten at least one hot meal a day, thanks to a former illegal immigrant who, with the help of his mother, has become a guardian angel for these workers.

The man, Jorge Muñoz, is an elfin 43-year-old who goes by the nickname Colombia, a reference to the country from which he emigrated 21 years ago.

See this video from the New York Times:

Click here to see the entire article on The New York Times

---

Jan 23, 2008 - (www.oscar.com) Isabel Vega's documentary "La Corona" nominated to the Oscars

La Corona (The Crown), a short documentary directed by Amanda Micheli and Isabel Vega (from Colombia) has been nominated to the 2008 Oscars Awards. These are the first Academy Award nominations for Amanda Micheli and Isabel Vega (from Colombia). This is the film synopsis: In a women's prison in Bogotá, Colombia, the inmates compete in an annual beauty pageant. Four prisoners are profiled as they prepare for the contest; an unusual manifestation of a national obsession. La Corona already won honorable mention in short filmmaking at the Sundance Film Festival this year. "La Corona" will air on HBO later this year. For more information on Amanda Micheli and her films, go to www.runawayfilms.com.

Jan 20, 2008 - (www.photographyblog.com) Two Colombians Nominated to the Sony World Photography Awards

Jaime Osorio (medical doctor) and Henry Agudelo, both from Antioquia, were nominated among more than 44,000 entries to the Sony World Photography Awards, which is considered the Oscars of photography. Osorio was nominated in the nude category and Agudelo was selected in the sports category. Both work images full of creativity and perfect games between light and shadow. 10 professional and 7 amateur photographers have been shortlisted in each category from 44,641 professional photograph entries and 25,934 amateur photograph entries. The Awards will be celebrated in Cannes, France from 21st to 25th April 2008, with a top prize of $25,000 for the Sony World Photography Awards Photographer of the Year. Jaime Osorio quit his medical practice to dedicate full time to the research of image and photography. Hery Agudelo is a photographer for EL COLOMBIANO newspepaer. He is a two-time winner of the World Press Photo Award.

Dec 11, 2007 - (www.nationalgeographic.com) CONSERVATIONIST IN COLOMBIA WINS 2007 NATIONAL GEOGRAPHIC/BUFFETT AWARD

WASHINGTON (Dec. 11, 2007)— A leading Colombian environmentalist and a wildlife champion from the Democratic Republic of the Congo are this year's winners of the prestigious National Geographic Society/Buffett Award for Leadership in Conservation. Jorge Orejuela, founder and director of the Cali Botanical Garden in Colombia, receives the award for leadership in Latin American conservation; Inogwabini Bila-Isia, World Wildlife Fund leader for the Lac Tumba Landscape in the Democratic Republic of the Congo, wins for leadership in African conservation.

They will receive their $25,000 prizes at a ceremony at the National Geographic Society in Washington, D.C., on Thursday, Dec. 13. Established through a gift from the Howard G. Buffett Foundation, the awards acknowledge the winners' outstanding work and lifetime contributions that further the understanding and practice of conservation in their countries.

Orejuela, who is also professor in the environmental sciences department at Colombia's Universidad Autónoma de Occidente, is being recognized for his work over three decades in conservation education, protected area management and sustainable development in the tropics. His accomplishments include the establishment of the cloud forest nature reserve, La Planada, between Colombia and Ecuador, and the creation of the Environmental Area of the Fundación para la Educación Superior, Colombia's leading private conservation agency. He also helped establish Utría and Gorgona Island national parks and Quindio Basin and Calima River nature reserves. As a field researcher sponsored for 10 years by the World Wildlife Fund, he paved the way for the establishment of that organization in Colombia.

Trained as an ornithologist, Orejuela has worked on species as varied as orchids, condors, spectacled bears and bats. Since 1999 he has been director of the Cali Botanical Garden, recognized as a leading research center and part of a protected high-altitude area with important ecosystem representation.

Nov 20, 2007 - (www.jsc.nasa.gov) Astronaut of Discovery has Colombian blood

Carrying a crew of seven astronauts, space shuttle Discovery began mission STS-120 with a brilliant, on-time launch from NASA's Kennedy Space Center in Florida on Oct. 23, 2007. It landed on Nov. 7, 2007 at 1:01 p.m. EST at Kennedy Space Center. Among the seven crew members is pilot George Zamka Perez, whose mother Sofia Perez is from Colombia. Born in 1962 in Jersey City, New Jersey. Raised in New York City; Irvington, New York; Medellin, Colombia and Rochester Hills, Michigan. Married to the former Elisa P. Walker of Mississippi. They have two children. He enjoys weight lifting, running, bicycling, scuba and boating.

STS-120 was the 23rd shuttle mission to the International Space Station, and launched an Italian-built U.S. multi-port module for the station. Retired Air Force Col. Pamela A. Melroy commanded the STS-120 mission which took the Harmony Node 2 connecting module to the station. Melroy, a veteran shuttle pilot, was the second woman to command a shuttle. Marine Corps Col. George D. Zamka served as pilot. The flight's mission specialists were Scott E. Parazynski, Army Col. Douglas H. Wheelock, Stephanie D. Wilson and Paolo A. Nespoli, a European Space Agency astronaut from Italy. Zamka, Wheelock and Nespoli were making their first spaceflight.

I remember Medellín as a very nice place", said Zamka four years ago during an interview in Houston. According to him, it is easier for him to understand Spanish than speak it. "I went there to live with my mom when I was 14. In the beginning it was hard because I did not speak much Spanish. I had to learn it fast so that I could fit in school and play with my cousins. All of a sudden I had to learn how to play soccer and understand the jokes and colloquialisms and 'Colombianize' myself. When I got it, it was sensational. I remember we used to go to 'la finca' in Rio Negro. My school was in the mountains and I used to see the airplanes land almost above my head. Impressively, it looked like they were going to crash."

Nov 15, 2007 - (www.hebdo.ch/) Colombia featured in Swiss magazine L'Hebdo

Colombia was the featured in the Economy section of the November 15 edition of famous Siwss magazine L'Hebdo. The article is titled "Colombia, the New El Dorado" and highlights the extraordinary richness of Colombia's culture and geography: two ocean coasts, three mountain cordilleras, 13% of world biodiversity, a huge Amazon plain, a unique ethnicity. This comes during the week in which European investment companies and banks are meeting with Colombian government in order to finalize the Free Trade Agreement with Europe (EFTA). The Switzerland has become the second investor country in Colombia. In 2007, ABB invested 10 million dollars and SIKA Group 8.5 million dollars. Nestlé had invested 45 million dolars in 2006 Glencore International AG did a record investment of 656 million dollars. The president of Swiss Re company, Peter Forstmoser, reminded that the main office for the Andean region is located in Bogotá. Mr Forstmoser added that Colombia is the second country in importance for Swiss Re in terms of commercial activity because is "politically stable and on of the largest economies of the continent. Beacuse its external debt is low and, from the human resource point of view, Colombians have an outstanding education and training". However, he added, "there is still a lot of prejudice about Colombia. I think it is more dangerous to cross a street in Rome than to travel to Colombia". The magazines subtitles the options to invest in Colombia as "A GOLDEN OPPORTUNITY". "Why Colombia?" The magazine answers "because along with Mexico and Chile, Colombia is the only country in the continent that offers Swiss investors a stable environment". The World Bank report "Doing Business 2007" placed Colombia in the second place in the countries that applied the most expectacular reforms in the business sector.

"IT'S TIME TO GO". Another sign of media cover includes the Financial Time , FDI magazine, dedicated to Colombia with the title 'Colombia gets out of the shadows". Business Week titled the cover of May 28 "What are the most extreme emergent markets?" Answer: Colombia. The Guardian wrote also about Colombia on the July 8th Edition and so did The Economist with the sub-title "Seriously, it's safe". Turist guide magazine Lovely Planet dared to write "It's Time to Go". Of course there is still a lot to do. 55.7% of Colombians lived below the poverty level in 2002 and this index is still hihg (45%) now. FARC guerilla is still active, and the democratic security policy is sometimes questioned. But the article ends with a thoughtful question, "Will isolating Colombia help overcome these challenges?" The answer from more and more observers is "Of course no".

October 9, 2007 - (danielmejia.wordpress.com) A colombian to lead Leo Burnett North America

Current president of Leo Burnett Latin America and global CD for the P&G accounts and former president of Leo Burnett Colombia, Juan Carlos Ortiz, has been appointed as the new president of the network in North America, overseeing from Chicago their offices in Canada, Mexico and the U.S. Juan Carlos, who has been maybe the best advertising pro in our country at the moment, began his carreer as a creative. When he was the president at Leo Colombia, the agency was elected three years in a row as the best in the country, and he is the responsible for the very first gold in Cannes for the Colombian advertising with this ad for the government program against drugs:

So, congratulations to him and for the ones working in any of the Leo offices around North America that you can expect great things to happen with him in front.

August 12, 2007 - (www.uswamateur.org/2007/) Maria Jose Uribe, First Colombian to ever win a USGA title

Uribe Wins 2007 U.S. Women's Amateur Title

Carmel, Ind. — Maria Uribe, 17, of Colombia, survived one of the most hard-fought finals in recent history Sunday to defeat Amanda Blumenherst, 20, of Scottsdale, Ariz., 1 up, and win the U.S. Women's Amateur Championship at the 6,497-yard, par-72 Crooked Stick Golf Club.

"This is the salary that I get because of all the hard work," Uribe said. "I haven't won a tournament in the States, and I win this one. That's great for me. I'll take it."

Uribe and Blumenherst were never separated by more than a one-hole margin in their 36-hole match. They were all square after the morning 18. Blumenherst finally gave Uribe the winning edge on the 193-yard, par-3 35th hole.

July 29, 2007 - (news.bbc.co.uk) Colombia's Barloworld rider Juan Mauricio Soler crowned the King of the Mountains

Juan Mauricio Soler Hernández (born January 14, 1983 in Ramiriquí, Boyacá) is a Colombian professional road bicycle racer for UCI Professional Continental team Barloworld. He competed in the Tour de France for the first time in 2007, winning stage 9 having broken away on the Col du Galibier. He won that year's King of the Mountains title. Soler stated the stage win was "a victory from heaven. It is the biggest win of my life, and in my first Tour de France. I didn't think it would come so quickly." Soler began racing at the age of 17, he stated a race in his village is what made him decide to become a professional cyclist. Upon becoming a professional, Soler spent a year racing in his native Colombia and soon after joined the Acqua & Sapone team where he was guided by Claudio Corti, who later brought him to his current team, Barloworld.

May 24, 2007 - Jorge Castaño stars at Cirque du Soleil

Jorge Castaño, from Jamundi, Colombia, is the only Colombian starring at Cirque du Soleil' spectacle "O" at Bellagio, Las Vegas. Cirque du Soleil weaves an aquatic tapestry of artistry, surrealism and theatrical romance in the timeless production, "O." Inspired by the concept of infinity and the elegance of water's pure form, "O" pays tribute to the beauty of the theatre - from the simplest street performance to the most lavish of operas - where anything is possible and where the drama of life plays itself out before our very eyes. World-class acrobats, synchronized swimmers, divers and characters perform in, on, and above water to create a breathtaking experience. Jorge is one of the talented athlete/artists that ensamble the Barge act of "O". With strength and fearlessness, this team of talented acrobats performs atop a floating raft in the Barge act. The core group is comprised of eight female world-champion sports acrobats. Their act combines innovative gymnastic performances with the traditional circus act of banquine and the balletic adagio. Showcasing these skills in a water environment completes this high-energy act, which also includes synchronized swimmers and Olympic divers.

May 24, 2007 (www.eltiempo.com) Three Colombian Women Reach Mt. Everest

Ana María Giraldo, Katty Guzmán y Mónica Bernal reached Mt. Everest top at 8,848 meters over the see level on Thursday. The three women were very happy for this achievement which is part of their campaign in the fight against breast cancer. "We climbed an actual mountain, but women who suffer of breast cancer have to overcome a tougher mountain every single day", said Ana María Giraldo. The expedition started the jurney on April 11th, but it was until the second week of May when the base camps were ready. They became the first Colombian women to summit the highest mountain in the world! They achieved a goal many considered unthinkable. Also, Colombian Luis Felipe Ossa summited Everest on Wednesday from the north side, without supplementary O2, becoming the first Colombian to top-out Everest that way. Elkin Gonzales, who was climbing with Ossa, eventually turned back. Climbing in a second group, the three female team members, Ana Maria Giraldo, Katty Guzman and Monica Bernal reached the top on Thursday. Together with the women was the expedition leader Juan Pablo Ruiz, who achieved his second Everest summit after a previous ascent in 2001.

May 24, 2007 - A Greek Colombian at the Cannes Film Festival

Spiros Stathoulopoulos's 'PVC-1' will participate in the French film festival's Directors Fortnight. The film is based on a true story and deals with a woman's kidnapping This year's Greek entry at the Cannes Film Festival is in actual fact Colombian. "PVC-1," directed by 29-year-old Spiros Stathoulopoulos, is participating in the Directors Fortnight and competing for the Camera d'Or award. "PVC-1," a dramatic tale of kidnapping, will be screened as a Colombian production since Stathoulopoulos, whose father is Greek and whose mother is Colombian, grew up in Colombia.
Stathoulopoulos has been living in Los Angeles since 2000, working as a cameraman and film editor on various productions. He is a polite young man, proud of his work and excited at the recognition it has received. "The film is based on a true story that took place in Colombia in 2000. When I heard it I said it was terrible and I had to turn it into a film," he said. "It is the story of a woman who is kidnapped. The kidnappers ask her family for a 7,000-dollar ransom and attach an explosive device to her body. The entire film is about her efforts to save herself and her family."
Stathoulopoulos shot the whole film in an 85-minute unedited take. When reminded that similar attempts had been made in the past, including Alfred Hitchcock's "Rope" and Aleksandr Sokurov's "Russian Ark" he replies that it was different. "These were cases of filming with secret cuts. I wanted to do a clean one-take, which is why I used a digital camera. All filming took place in four days in Colombia. I handled the camera myself, it was a heavy steady cam and in order to ready myself I trained for five hours every day, for three months. I put in a lot of effort with the actors and a lot of preparation was needed. Everything had to be pre-planned in detail to shoot in a one-take. It was particularly hard for me to manage the heavy camera, because shooting took place in high temperatures, in places with rocks and water." Stathoulopoulos constantly refers to his Greek heritage with the pride that one encounters only among the Greek diaspora. His family decided to move to Bogota when he was 9 years old, but Stathoulopoulos went back every year and also came to Greece to do his military service. After completing his film studies in Colombia, he carried on studying in Los Angeles where he works to this day. He has also founded a production company, Kosmokrator Cinema.

May 21, 2007 (ezinearticles.com) Colombian nationals are proud of having two young scientists working for NASA

Diana Trujillo, 23 years old, from Cali, is working for Nasa since 2006 as a research team member. Rodrigo Ocampo, 21 years old, from Bogota has been chosen to work with another 18 interns from all over the world under the guidance of prestigious scientists. They are good reasons for Colombian citizens to be proud of. However there is something great about this presence: knowledge is spreading as a leading force for human beings from around the world to become active in world scenarios to make a better universe.

Diana is a student in Aerospace and Mechanical Engineering, Minor In Biomechanics, at th University of Florida in Gainesville, FL. In Diana Trujillo's personal statement at NASA she says "I left Colombia with the dream of becoming an Astronaut. In my plans, my first step was to learn English; Then graduate from a recognize university as an Aerospace Engineering, and then find my path towards NASA to become an Astronaut. Today, as I write this paragraph, I still can not believe that I can finally say "I am going to work in NASA this summer". This has been the greatest gift life can give me. Thank you!"

Rodrigo Ocampo is also a student of Aerospace Engineering and Mechanical Engineering at University of Florida. His personal statement at NASA is: "I believe everyone has a mission on this planet, to change the world for the better, and is everyone's responsibility to achieve this through each respective career a person chooses. I have chosen my path, that of Aerospace Engineering which combines my passion for space and all its mysteries as well as the development of new technologies that can benefit all kinds of peoples around the world. I intend to work from the inside with the U.S. Air Force to help influence world policy, advocate space and extend our reach to the stars. This path hasn't been easy, but I've taken the challenge head on, hard work, discipline, perseverance and friendship is what propels me forward in all my endeavors, from leaving Colombia and adapting to a new culture to being accepted in this great program. I thank my family for instilling such sense of responsibility and curiosity early on which I've developed even more so through the years."

May 21, 2007 (www.motorola.com/) Colombian as a leading designer for Motorola's RAZR and other phones

Motorola, the technology giant from the USA,has a Colombian leader in its design department. Ruben Castaño, from Bogota, Colombia, is the director of the creative and development team who are the creators of the RAZR, the KRZR and other cell phones which are responsible of having Motorola on the winning side of a very competitive market in the electronic segment of the world communication revolution.

As per CNET editors review, something that mobile manufacturers are taking into consideration about the RAZR is the trendsetting design fashioned like no other handset before it.Besides the flashy form factor there are other great high-end goodies that are giving a new breath to Motorola as a world technologicalleader.

May 2, 2007 (www.putumayo.com/) Colombian Marta Gomez is featured in Putumayo's "Women of the World"

Marta Gomez,originally from Colombia has been featured in the recent Putumayo's "Women of the World: Acoustic". An exploration of contemporary acoustic music by some of the world's leading female artists. Marta Gómez has lived in the United States since 1999 when she began her studies at the prestigious Berklee College of Music in Boston. Putumayo first discovered her music when she sent a demo of her self-produced CD, Sólo es Vivir (It is Just Living), which features striking original songs inspired by a range of Latin American genres such as Colombian cumbia and bambuco, Argentinean zamba, Cuban son and Peruvian lando.

"Paula Ausente" (Absent Paula) was inspired by the book Paula which was written by Chilean writer Isabel Allende.The author describes her search for meaning after the death of her daughter from a rare disease, and Marta Gómez was struck by the depth of a mother's love for her child. "Paula was happy, with a brilliant mind / From so much laughing death arrived / Like an illusion, Paula grew up / Without knowing that time was slipping away."

May 1, 2007 (www.angelaposadaswafford.com) Colombian science journalist Angela Posada-Swafford launches series of science novels in Spanish for youngsters

Colombian science journalist Angela Posada-Swafford launches a series of 10 novels of science and adventure for young adults during the 2007 Book Festival of Bogotá. Angela Posada Swafford is a US correspondent of Muy Interesante Magazine and writes in Wired and New Scientist as well. She writes and produces television and radio documentaries for NPR, Discovery Channel and others. In this picture on the right is Angela with Dr. Jorge Reynolds, who stars in her book "En el Corazon de las Ballenas" (In the Whale Heart). She has been with researchers in expeditions to remote locations such as the south pole, top of volcanos, ocean floor, etc. She was a winner of a Fellowship at MIT in Cambridge, Massaschusets, as an experienced science journalist. Angela has experienced zero gravity; interviewed Al Gore; pet a just-born gator. Congratulations!

April 11, 2007 (www.Eltiempo.com) Colombian journalist Elizabeth Mora-Mass wins the Fanny Calderón de la Barca Award in USA

Elizabeth Mora-Mass, a Colombian journalist who resides in New York City, was awarded the Fanny Calderón de la Barca Award by the Latin American Cultural Center of Queens. Elizabeth was awarded due to her series of journalist articles published on The Queens Courier and El Correo de Queens about human traffic and gangs, which are phenomena involving Hispanics. Mora-Mass holds a Master degree in Journalism from Columbia University where she won the Richard T. Baker Award in 1997, which is given each year to the Best Journalist of the Class. She was reporter for El Tiempo in Medellin and New York, El Colombiano in Medellin; and Aló Magazine. She has been editor of Beverage World en Español and columnist for La Prensa in New York. She is currently editor of Crónicas newspaper in New York.

April 10, 2007 (www.tate.org.uk) Colombian artist Doris Salcedo, first Latin American artist to be featured in Turbine Hall at Tate Modern in UK

Colombian artist Doris Salcedo will undertake the eighth commission in The Unilever Series for the Turbine Hall at Tate Modern since October 9, 2007 through April 13, 2008. Doris Salcedo was born in 1958 in Bogotá, Colombia, where she continues to live and work. Widely recognised as one of the leading sculptors of her generation, over the past five years Salcedo has increasingly addressed the public sphere in her practice and has completed several large–scale projects around the world. This will be Salcedo's first public commission in the UK.

Research
Responding to specific architectural, geographic and political situations, all of Salcedo's projects are grounded in meticulous research, the exact nature of which is mostly hidden by the silent and hauntingly beautiful poetry of her work. Common themes include the destructive force of violence, personal and collective trauma, and the tragedy of human loss. In 2002 over the course of two days Salcedo lowered 280 chairs down the façade of the Palace of Justice in Bogotá to pay homage to those killed here in a failed guerrilla coup seventeen years earlier. Blurring the lines between performance and sculpture this extraordinary spectacle publicly confronted memories of this traumatic event for the first time. The following year, at the Istanbul Biennial 2003, Salcedo filled a derelict building plot with 1,550 wooden chairs. These were piled house-high and made flush with the facades of the buildings either side, evoking the masses of faceless migrants who underpin our globalised economy.

More recently in 2006, Salcedo created a work in the eighteenth-century Castello di Rivoli, Turin entitled Abyss. This installation shrouded the white-washed walls of a room used for dynastic displays of power with a brick skin. Immaculately blindfolding the castle's architecture, Salcedo created a vivid memorial to those excluded from systems of power, past and present. For her most recent exhibition in London, at White Cube in 2004, Salcedo embedded wire mesh into what appeared to be the gallery walls, to create an uncanny suggestion of being trapped in a confined space.

Domestic & unorthodox materials
Salcedo's public works are an extension of her earlier sculptural practice which frequently featured ordinary household objects worn by age such as chairs, tables and wardrobes. Juxtaposing these relics of domestic life with unorthodox materials such as human hair, cement and garments, Salcedo turns familiar objects into visual metaphors for the suffering experienced by victims of violence and injustice. A monographic room containing three seminal sculptural works from Tate's collections by the artist will be on view at Tate Modern from May onwards.

March 30, 2007 (www.santafenewmexican.com) Priscilla Welton, Colombian exile, dance instructor found prosperity in Santa Fe

Professionally, she was known in Bogotá, Colombia, New York and London as Priscilla Welton. But to her students at the National Institute of Dance of New Mexico, she was just Priscilla. Most of her bereaved students didn't know that Welton, the wife of noted Colombian writer Fernando Garavito, had endured the perils of fleeing Bogotá to escape the death squads targeting her husband for his journalism linking that country's government to its drug cartels. With grace and indefatigable courage, Welton filled her family's new home in Santa Fe with flowers and the smell of home cooking. Welton died Thursday at St. Vincent Regional Medical Center of complications after a stroke. She was 55. She was born in Bogotá in 1952. She studied classical ballet in London and received scholarships to the prestigious schools affiliated with the New York City Ballet and the Robert Joffrey Ballet Company. After advanced studies in Moscow, she founded and directed the Priscilla Welton School of Dance in Bogotá in 1981. The school was one of the few in the city that provided scholarships to children who couldn't otherwise have afforded to study dance. Throughout a 32-year career, Welton choreographed and directed numerous productions; and many of her students became professional dancers.

Welton and her family were granted exile status in the United States and settled in Maine for a short time. They arrived in Santa Fe during Christmas week of 2003 with the help of J. Patrick Lannan, president of the Lannan Foundation, PEN New Mexico and the North American Network of Cities of Asylum. Welton joined the staff of NDI-NM and taught ballet at in its School for the Performing Arts. "She appeared at just the right moment for us, literally," said Catherine Oppenheimer, the school's founding artistic director. "Just a week before she walked in, I was saying that we needed a bilingual teacher because so many of our students are Spanish-speaking. She was a consummate professional, very strict with her students but very loving. You literally had to remind her that class was over. She routinely just kept going because she loved ballet so much."

Donna Scheer, director of NDI-NM's School for the Performing Arts, telephoned students and families to let them know Welton would not be coming back. "We feel a terrible loss," she said. "You just don't find people like Priscilla. She taught every level from 7-year-olds to our most advanced students and trained such exquisite dancers." Lannan, who had become a close family friend, remembered Welton with profound respect. "She was a talented artist who brought such love for life even to the experience of exile," he said. "I remember her as the rock of her family, an elegant, stable presence."

March 28, 2007 (http://masshightech.bizjournals.com) Colombian Doctor Deya Corzo honored as "2007 Women to Watch" by Mass High Tech Magazine

Colombian genetist Deya Corzo, from Bucaramanga, Santander, was one of the 10 New England women to be honored at the Annual Women to Watch event of the prestigious Mass High Tech magazine from New England. These women are go-getters, hard working, inspirational and motivational to their peers. These up-and-comers are continuing to grow and will shape the future of their industry. Passion and drive were the common themes among the honorees, each of whom spoke briefly, telling stories -- and sometimes jokes -- about their passion for science and learning, and its relationship to building a successful career in the traditionally male-dominated high tech industry. Thanks to Dr. Corzo's research treatment is now available for Pompe disease. On April 28, 2006 the Food and Drug Administration granted marketing approval for Myozyme® (alglucosidase alfa) in the U.S. Myozyme is indicated for use in patients with Pompe disease (GAA deficiency). MYOZYME has been shown to improve ventilator-free survival in patients with infantile-onset Pompe disease as compared to an untreated historical control, whereas use of MYOZYME in patients with other forms of Pompe disease has not been adequately studied to assure safety and efficacy.

Deya Corzo, M.D., medical director of the Myozyme program with Genzyme, believes that the project is a model for partnerships between industry and academia. "We were productive, we had tons of publications, and we had a great relationship," she says. "My speed dial is full of Duke numbers. There have been disagreements, but people always saw the bigger goal, and were optimistic that this product could change the course of this horrible disease."

Congratulations to this year's honoree Deya Corzo, Medical Director of Clinical Research, Genzyme Corp. From Bucaramanga, Colombia! See the following nice articles:

Life-changing efforts , and

March 27, 2007 (www.defenselink.mil) Captain Eric Albarracin wins gold at US Armed Forces Wrestling Tournament

Capt. Eric Albarracin won all six of his Greco-Roman and freestyle matches to lead the All-Army wrestling team to its sixth consecutive Armed Forces Wrestling Championship on March 23-24. Albarracin opened each session of the two-day tournament with victories in the 121-pound weight class that sparked the Army squad to triumphs over the Navy, Air Force and Marine Corps. "I wanted to be the sparkplug, but the whole team stepped up," said Albarracin, an Individual Readiness Training instructor who won gold medals in both disciplines. "The team got me ready, and I wanted to do it for the team and the Army. Wrestling is wrestling, and you've just got to be a warrior."

Eric Albarracin is a Captain in the United States Army in the Individual Readiness Training Company. He is also the Officer in Charge of Modern Army Combatives (the Army's new hand-to-hand combat system) as well as an all-Army wrestler. Eric's father was born in Boyaca' Colombia in 1933 and lived in Bogota for 30 years and currently lives in Scottsdale, AZ. His Dad, Edilberto Javier Albarracin Rincon, always wanted to serve in the military but did not get the chance. Eric, however , is proudly serving in the US Army. He competed in the US Armed Forces Wrestling Tournament this past weekend in Greco-Roman and Freestyle Wrestling. He won a gold medal in both styles qualifying him for the Military World Games in Hyberadad, India in October.

March 8, 2007 (www.concierge.com) Colombia featured in travel magazine Concierge

Even during Colombia's darkest years, Cartagena was spared. David Ebershoff visits this dreamy city by the sea, a place that wears its rich history as lightly as it does its languorous charm. The article's title is "Sleeping Beauty".

"I'm here to see how Colombia's long-running civil war has treated Cartagena, the languid, legendary colonial city on the Caribbean made familiar to many by Romancing the Stone or the fiction of Gabriel García Márquez, depending on one's point of reference. Cartagena's history is an amalgam of Spanish, native Indian, and African heritage. Catholicism has always been the dominant religion, but Jews, Muslims, and practitioners of the indigenous religions have had their influence as well. This diverse history presents itself in the faces of the roughly one million citizens, who are for the most part of mixed descent, and in its architecture, its percussion-heavy music, its very pace of life. It's a steamy, tropical city edged in by the sea and the mangrove swamps. The midday sun is cruel, the trade winds arrive only late in the afternoon, and the air is sleepy, lazy with the knowledge that the next day will be the same as today." See the whole article at www.concierge.com.

Come visit this link to learn about more positive news about Colombia.

---


Drop us a line!